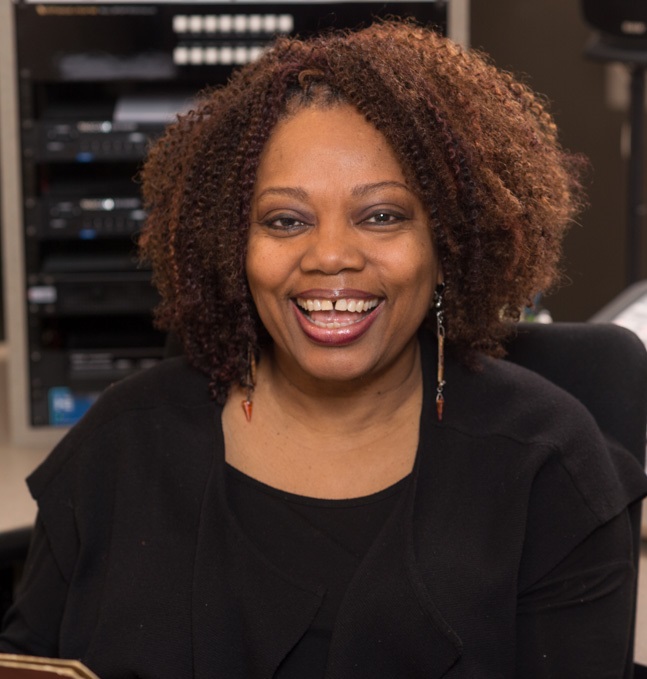 Dee Alexander
Producer/Host, Jazz Network
Dee Alexander is one of Chicago's most gifted and respected vocalists/songwriters. Her musical interests span virtually every genre especially those related to the African diaspora including: Gospel, R&B, Blues, Neo-soul and other global musical forms. Her true heart and soul though, are ultimately expressed in their purest form through her explorations in "jazz", the one idiom that can encompass all her interests and influences. Ms. Alexander gravitated toward this musical form at an early age. She names Sarah Vaughan, Billie Holiday, Nins Simone and Ella Fitzgerald among her many major influences. Chicago saxophonist "Light" Henry Huff, as well,was profoundly influential on her by encouraging the taking of risks and the crossing of boundaries, setting her on a path that has allowed her to emerge as one of the celebrated vocal improvisers on the scene today. From a sultry traditional ballad, to a contemporary jazz-funk groove, a high-flying swing, or scat-filled romp, Alexander delivers each style with a passion and love of music that comes across in each and every note, and with a style and grace that is truly her own.
Recent career highlights include appearances at the 2016 INNtöne Jazzfestival in Diersbach, Austria; the 2016 Sons d'Hiver with Michael Zerang and Hamid Drake in Paris; the 2015 Joy of Jazz Festival in Johannesburg, S.A.; the 2014 International Jazz Festival in Liebnitz, Austria; 2014 Kennedy Center Honors with Jeff Lindberg and the Chicago Jazz Orchestra; the 2013 Newport Jazz Festival at which The New York Times called her appearance one of the year's 10 best; the 2013 Mississippi Valley Blues Festival; in 2011 at the Umbria Jazz Festival; in 2007 in "Sirens of Song" Tribute to Nina Simone and Dinah Washington (commissioned by the Jazz Institute of Chicago) and the 2014 concert Made in Chicago/Funkin' with Acoustic Soul: Tribute to Jimi Hendrix/James Brown at Pritzker Pavilion in Millennium Park; and Tribute to Abraham Lincoln: Proclamation of Hope with Ramsey Lewis at the Kennedy Center in 2010.
In addition to being a seasoned headliner in her own right, she has also shared the stage with Ahmad Jamal, David Sanborn, Earl Klugh, Gerald Albright, Roy Ayers, Joshua Redman, and Oliver Lake to name a few. Avoiding the inclination to seek to monopolize the spotlight, Ms. Alexander has lent her considerable talents as a back-up vocalist to the live performances of many other well-known artists such as Melissa Etheridge, Michael Bolton, Phil Perry and Willie Clayton. Dee Alexander leads a quartet under her own name as well as has established the Evolution Ensemble, an acoustic group consisting of string and percussion instruments, that puts a strong emphasis on original compositions.
Displaying a seemingly endless range of versatility, Ms. Alexander has lent her voice to the Muntu Dance Theater of Chicago as well as having been featured in numerous commercial spots including: Alpo, McDonald's, Pert Plus, Illinois State Lottery, Diet 7-Up, Pillsbury, Buick Le Sabre, Commonwealth Edison, Dove, and Amoco. Her television performances include Proclamation of Hope: Tribute to Abraham Lincoln with Ramsey Lewis (2011) on WTTW; Portraits in Color on WBBM; Going Home Gospel with Sue Conway and the Victory Singers featuring Patti LaBelle on WTTW; Arts Across Illinois with Malachi Thompson's Freebop Band on WTTW, and Bernie Mac's special Midnight Mac on HBO.
The Chicago group Women Driving Excellence honored Alexander as one of 2016's Trailblazing Women. In 2012, she received the prestigious 3Arts Award in music and in 2011 the NAACP honored her for outstanding achievements in the arts. She was honored in 2009 by Muntu Dance Theatre of Chicago as the Alyo Awardee for Outstanding Service to the Arts.
Chicago magazine named her "Best Chicago Vocalist" in its July 2009 issue. Ms. Alexander received the 2007 Chicagoan of the Year in Jazz Award and in 2008–10 Jazz Entertainer of the Year from the Chicago Music Awards. She a longstanding member of the Chicago chapter of the Association for the Advancement of Creative Musicians (AACM) and Chamber Music America.
In 2009, Alexander's Wild Is the Wind was released on BluJazz and received a five-star rating from DownBeat magazine which named it among the Top Ten recordings of the new millennium. Her latest release on BluJazz, Songs My Mother Loves, continues to receive rave reviews. There is seemingly at this point no end in sight for Dee Alexander's celebrated musical journey exploration on which she is so generously taking us all along with her.