The WFMT Radio Network is bringing the Jazz Network home to Chicago!
Joining the Jazz Network for 2017 are Jazz vocalist and educator Dee Alexander, radio host John Hill, long-time WFMT and WGN News host Dave Schwan, and GRAMMY® Award-winning liner-note writer, Jazz critic, and former WBEZ host Neil Tesser.
The Jazz Network will be gradually integrating the new hosts over first few months of 2017. Greg Bridges and Lee Thomas will continue with the Jazz Network for the first half of the year, with hours hosted by Neil Tesser and Dave Schwan introduced gradually.
Beginning on January 10, 2017, the first phase of the new Jazz Network will go live. In order to maintain continuity in the schedule, we have programmed the hosts' hours to be consistent throughout the week. In this initial phase, Greg will continue, hosting hours 0-2 Monday through Sunday. Lee Thomas will also continue, hosting hours 3-4 Monday through Sunday.
Dave Schwan will begin hosting hours 5-6, Monday through Sunday, while Neil Tesser will host hours 7-8, also Monday through Sunday. Hosts Dee Alexander and John Hill will be added to the schedule in Spring of 2017, with tentative schedule dates in March and June. A full schedule for the January 10th release is below for reference.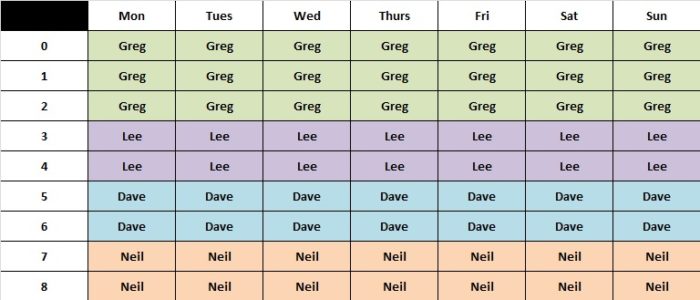 Following the enormous success of the Beethoven Network classical music format service and in response to radio station requests for low-cost, highly-quality hosted jazz hours, the WFMT Radio Network created the Jazz Network, now 9 hours nightly of mainstream jazz programming.
Jazz Network debuted in April 1997 with a strong and rapidly growing base of affiliates. The qualities and features that have worked so well with Bach, Mozart and Beethoven now apply to Evans, Coltrane and Parker through the Jazz Network.
Designed for you and your listeners, all Jazz Network hours can be fully customized as your local program product. The service includes flexible hourly modules, with optional internal covered breaks which allow for news, IDs, local promotion, funding credits or commercials, and customized continuity with a local sound which will have your listeners convinced that the hosts are sitting right in your studio!