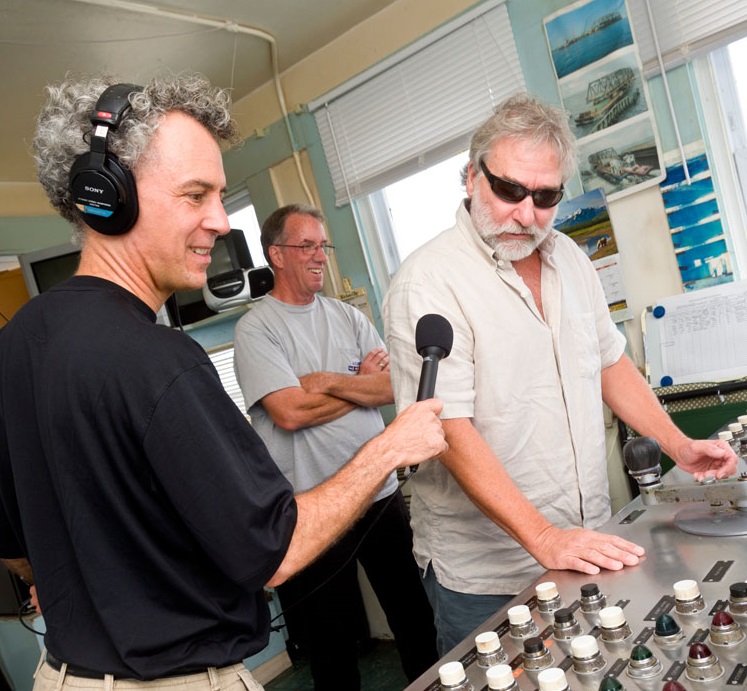 David Schulman
Producer, TALOA: An Exploration of Music by American Indian and Māori Composers, PoetryNow
Since 2002, David Schulman (on the left in photo) has been nationally recognized among the most creative independent producers working in public radio.
Creator and producer of the "Musicians in their own words" project, David has produced numerous pieces airing nationally on NPR's Morning Edition, All Things Considered, and Weekend Edition. He's interviewed musical icons including Yo-Yo Ma, George Clinton, Renée Fleming, Poncho Sanchez, Joseph Shabalala, Hilary Hahn, Cassandra Wilson, Emmylou Harris, Cecilia Bartoli, and the late Bo Diddley — but he takes a particular delight in bringing to air the voices and stories of terrific unsung musicians.
For the WFMT Radio Network, David served as editor and producer of our eight-hour series, TALOA: An exploration of music by American Indian and Māori music, working closely with host (and composer) Jerod Impichchaachaaha' Tate. David also was senior producer for the inaugural season of our Poetry Now series. During his time at the BBC, David was senior producer of the globally-distributed Americana program, producing memorable pieces on bail bondsmen, astronauts and 10-year-old chess grandmasters. His work is also heard on leading outlets such as Latino USA. The Australian Broadcasting Corporation, and PRX.
The winner of the Silver Award from the Third Coast International Audio Festival and two major CPB grants for his radio work, David is also an improvising violinist and composer who often collaborates with dancers and choreographers. You can find his music at quietlifemotel.com